Why are so Many UK Students Becoming Sugar Babies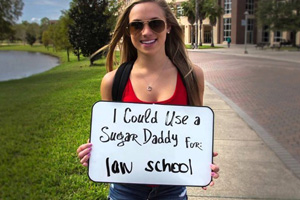 Seeking Arrangement has over 1.4 million profiles of UK sugar babies attending university, a group that has massive growth rates of 50%. Given that the website only has 5 million users in total, what is going on here?
Students are notoriously poor, especially here. UK graduates leave with a higher level of debt than any other English speaking country. In the past a lot of students have turned to the sex industry to make ends meet, trading in their youthful looks for a little extra cash.
At first glance it can seem that the 'sugar bowl', as it is often called, is the same. The big difference is that with sugar dating, students are in a mutual relationship. They set out what they want from the sugar daddy and what they are willing to do in exchange. They aren't selling themselves, they are giving of themselves. Some like to say they are being exploited by sugar daddies and if that is true, then they are also being exploited in return! If you had the choice between luxury outings or working terrible hours for terrible pay which would you pick?
Money isn't the only part of the equation. Student life is stressful! Many UK students become sugar babies just to have a good time! Instead of living on spaghetti bolognese and baked beans, they get taken out to fancy restaurants. Rather than scavenging through op shops for an outfit, they go on on a shopping spree and come back with Prada! And to make it even better, they are getting paid for the privilege!
Being a student can be lonely. Many students have left home and moved town to the university of their choice. Getting a sugar daddy can be a fine answer to that. Not only will you have someone mature and experienced to talk to but you may also get introduced to his circle of contacts. A sugar daddy can be more than just a paycheck - they could turn into a confidant or mentor. If you pick your sugar daddy right, then it could make or break the start of a career.