Safety Measure for Sugar Daddy Dating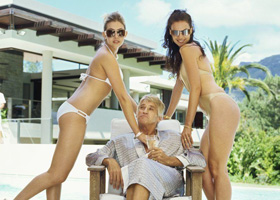 Sugar daddy relations are booming nowadays as more and more young women are getting attracted to this 21st century relationship. But amidst the love and pampering and unending number of the gifts that you get from your sugar daddy, a sugar baby should know how to keep herself safe. It is true for any relationship to know the things that you need to do in the relationship to keep yourself safe. There have been cases where the relationships have not ended well and therefore we have decided to present you with the rules that you should follow in sugar daddy dating to keep yourself out of harm's way.
1. Keep your information safe
Nowadays, most of the sugar dating goes on over the net and if you look up sugar daddy dating on the internet you will be introduced to thousands of such dating websites. The common thing about these websites is that they will ask for your personal information but we recommend that you try to keep important details like your address or where you work to yourself at the beginning. Even after knowing him, do not reveal information like your bank details to him for added safety, instead you can do transactions with him via other ways like online wallets like Paypal, etc.
2. Set your terms
There are a lot of do's and don'ts in this type of relationships and that is why you should be a little strong in setting your terms straight from the beginning. You should let him know if you are not comfortable doing certain things and see whether he complies or not because if he doesn't then there is a high chance that he might take undue advantage of you in future.
3. A little public display
One rule that you should follow, at least in the beginning is that you meet him at public places. Let's face that you don't know your date, so you can't take chances here. Never make the first meeting at your or his home, always look for places with people, like restaurants or malls or etc.
4. Background check
This is the obvious one. You have to do a little background check on your potential sugar daddy before you decide to go out with him on a date. There are a lot of fake profiles of sugar daddies online. A little background check can help you weed out the fake ones from the real ones.